Why TSTC Ceramic Art Lines
2021-05-13
TSTC Lightweight Ceramic Art Lines are more stable than other lines with different materials including the EPS, GRC(Glass fiber Reinforced Concrete), Stone etc., but with much more better price, which is widely used in the antique building and European style buildings.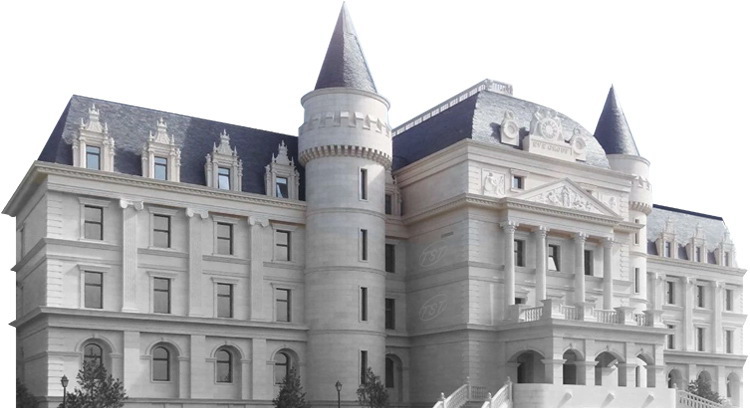 Why choose TSTC Art Lines but not other similar products? The biggest reason is the cost, incuding the purchase cost as well as the following maintenance cost. Take the most popular stone art line for example, with the same shape and length, TSTC Art Line could bring our partner about 2 times profit .Other key advantages of our Ceramic art line are as below .

1. Lightweight. Compared with traditional solid art lines,like GRC, Stone lines, TSTC Ceramic Art Lines are much lighter, the density is only 400Kg/m3, however, to other materials, GRC art line is about1900Kg/m3, Stone art line is about 2700Kg/m3, at least 5 times heavier than Ceramic Art Lines, which enhanced the installation cost, also increases the risk that the lines apart from the building surface, what's more, it also enlarge the weight of the building which bring the pressure to the foundation .
2. Class A1 Fire-resistant . TSTC ceramic Art Lines overcomes the fatal weakness of inflammability of organic materials which fills the gaps of the inorganic insulation fireproof building materials in building material industry. Its combustion performance is A1 level .
3. Environment-friendly. High temperature firing products, long duration and green nontoxic, which could make TSTC art lines be used for at least 100 years, even the building is older, TSTC art lines still young .
4. Low Water Absorption .TSTC art lines almost 100% cell closed, which make the line body have very low water absorption, the real water absorption <1%, with the same situation, the steamaeratedconcretebrick is about 40%, the lime sand brick is about 15% .
5. Easy-to-use. High hanging force, being able to bear various hangers of indoor and outdoor.
6. Healthy. Anti-microbial and mould proof, to help protect the damage of health.
7. Anti-crack. Sintering product with extreme low shrinkage value and effective anti-crack.
8. Maintenance free. Product of whole ceramics material with extreme low moisture content and water absorption and has a long-acting and stable performance.What's more, TSTC ceramic art line is easy to process, easy to install, more convenient to splice on site.
9. About the construction process and Security .
**TSTC ceramic art lines used the normal mastic cement for adhesive,then fastened by the expansion screw, almost could't be apart from the building surface forever.
**GRC Rrt Line, it's hollow inside, with iron wire as skeleton, and assembled with the help of steel frame, the construction process is a littel complicated, and because the iron wire is easy to rust and break, and the safety coefficient is much lower .
**EPS art line, it's lighter and easy to install, however, because of the compatibility between EPS and adhesive (cement mortar), the safety coefficient is much lower .Stone Art Line, because of the large weight , with regard to the installation, it is strongly recommended to use dry hanging process, but because of the cost, most of the construction uses marble adhesive, which has great security risks.
TSTC Ceramic Art Lines will be your best choice !