In the wave of China's vigorous development of green building materials, lightweight and large-size wall materials stand out, and at the same time, it also improves the popularity of green wall thermal insulation materials. Therefore, the integrated wall system which composed by lightweight ceramic decorative integrated board with the features like thermal insulation, fire prevention and decoration has light weight and high strength, which is easier for hoisting and does not need secondary decoration, made it has strong market competitiveness.
Because of the features above, TSTC foamed ceratmic Integrated Wall Panel were widely used in the internal and external wall of the building ,especially for the hall of the hotel, office building and museum, the washroom, kitchen etc..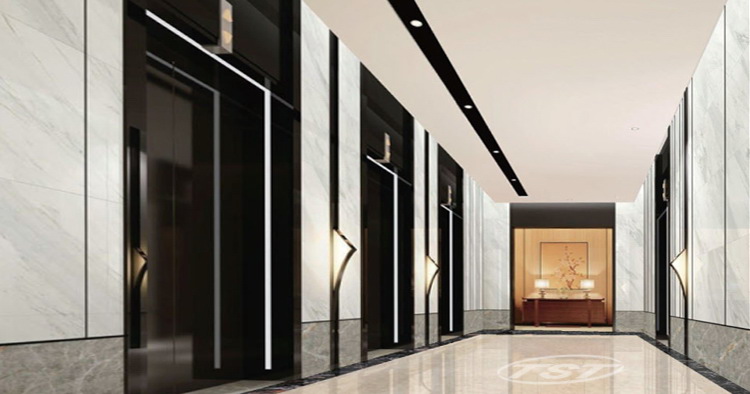 Advantages of Ceramic Decorative Integrated Panel
1.Multi-functions in one. The decoration feature like Marble , Ceramic Tile. The insulation feature like insulation board. Sound proof feature like sound proof board. Fire proof feature like the fire proof board..... we can found all the features above in TSTC Integrated Board .
2. Class A1 Fire-resistant . TSTC Ceramic Integrated Panel produced under the high temperature roasting (1150 ºC ~ 1200 ºC), its combustion performance is A1 level , the fire resistance could reach to 4.5 hours .

3. High durability. High temperature firing products, long duration and green nontoxic, which could make TSTC Integrated Panel be used for at least 100 years.
4. Ultra light . To TSTC Integrated Panel with the thickness of 100mm , the areal density is only about 40Kg/m² (about 400Kg/m³) , that means, with the same conditions, the weight of TSTC Integrated Panel is only 1/4 of Lime Sand Brick , 1/3 of Aerated Concrete Brick , about 1/2 of ALC Board and Hollow cement wall Panel , it's almost the lightest wall panel for the buildings .

5. Low Water Absorption .TSTC Integrated Panel almost 100% cell closed, which make the panels have very low water absorption, the real water absorption <1%, with the same situation, the steam aerated concrete is about 40%, the lime sand panel is about 15% .
6. Healthy. Anti-microbial ,mould proof, green nontoxic, which could help protect the damage of health.
7. Anti-crack. Sintering product with extreme low shrinkage value and effective anti-crack.
8. Easy To Process .TSTC Integrated Panel is easy to process, easy to install, more convenient to cut and splice on site.